How to Apply…
BacKrete® Eco-Friendly & Waterless Concrete Cleaner
A small amount of BacKrete® Eco-Friendly & Waterless Concrete Cleaner spread thinly over concrete on a weekly basis will eat most oil stains.
IMPORTANT: BacKrete® will eat oil, but not dirt. Use the BacKrete® Heavy Duty, Concrete Surface Cleaning Brush to clean any area which may have a heavy build-up of dirt, absorbent & oil. Remove this build-up to expose the concrete surface before applying the BacKrete® powder. This is a common problem at diesel fuel islands at travel centers and truck stops.
DO NOT mix water with BacKrete® Eco-Friendly & Waterless Concrete Cleaner.
The bacteria in BacKrete® obtains the water it needs from the latent moisture content of concrete, natural rain and dew, and automotive air conditioning condensation.
Step 1
Bend down to the concrete and drag the measuring cup along the concrete surface in front of the BacKrete® Applicator, creating a 2″ line of powder.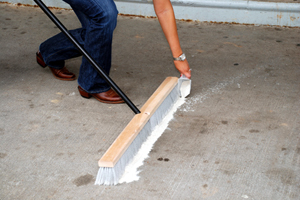 Step 2
Spread with the BacKrete® Applicator flat on the concrete surface. This will push the BacKrete® Powder into the concrete's pores. Spread the BacKrete® down the length of the stained "Drip Zone." Then rotate the Applicator 180 degrees and spread back in the opposite direction.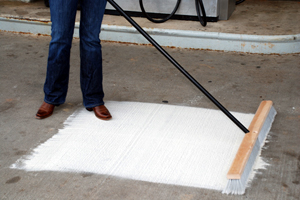 Step 3
Brush the applicator back and forth across the product at 90 degress to the direction of brushing in Steps 1 and 2.
Spread, Spread, Spread until the product is thinly and evenly applied, and you will see the oil stains begin to turn white.
One 8 oz. cup contains enough BacKrete® to cover one side of an oil stained "Drip Zone" in a normal fuel pump area.
• Automotive Drip Zone: 2-4 ounces.
• Diesel Drip Zone: 4-8 ounces.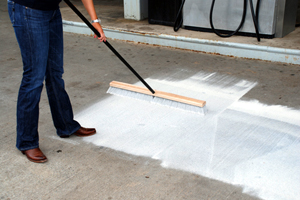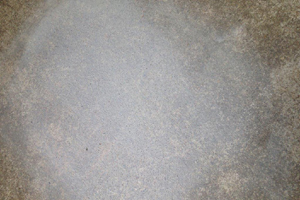 Surface is now stain free.